Make friends, learn new skills, and join our thriving community of volunteers! Whether you can give minutes or months, the time you give will make a profound difference to mothers and their children.
How to volunteer for Life
Let us know you're interested!
There's something for everyone at Life, so take a look at our current volunteer roles. Once you've found one you like – or if you'd like to make a general enquiry – fill out our volunteer interest form to start your volunteer journey.
You'll hear from our volunteer team
Once we've received your volunteer interest form, our Volunteering team will drop you an email to set up a call. In this call we'll share more about what we do, our values, and advise you how best to get started and get involved in Life's work.
Meet your team and get stuck in!
Once you've been accepted by us as a volunteer, you'll be given everything you need and introduced to your manager. For some roles you may need specific training, which we'll provide. Now it's time to go out there, meet your team, make friends, and make a difference!
Find out what volunteer roles you can get stuck into!
The benefits of volunteering can last a lifetime – for those you're helping and for you as well.
Lisa Martell, Manchester Life Shop Manager, says, "Volunteers become your external family!" Connect with the community, make new friends, and build relationships. One of our volunteers says, "I really enjoy my time with Life. Everyone is so friendly, and we get on really well."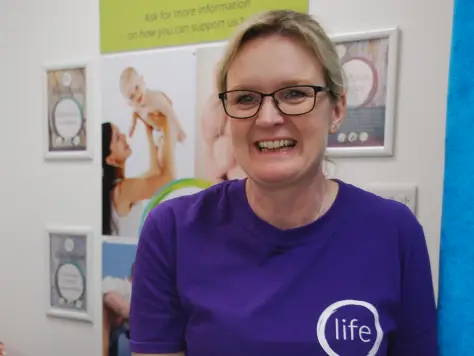 A Life House volunteer says, "The experience I got from volunteering with Life contributed to me being successful applying for employment in a similar setting." She goes on, "Definitely take the step to find out more! It doesn't have to be a huge time commitment and it could open up a whole realm of experience and opportunity." Boost your CV, increase your confidence, and build your employability.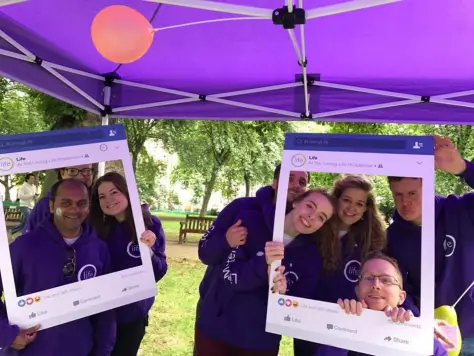 Leave an impact for a lifetime
One of our volunteers says, "Volunteering for Life is special as it doesn't affect just one life but two!" Your support helps women, men, and families move into parenthood and for their children to thrive. The legacy of your volunteering can last for generations.
I'm interested in volunteering
We love you already! Fill out this form to register your interest in volunteering with Life.
It's normal to have questions before starting something new. We've answered some of the most common ones below. If you can't find the answer you're looking for, then please contact us using the queries form on our contact us page or email volunteering@lifecharity.org.uk.
You may also be interested in
Get involved and take part in events that raise money for Life – all while having an excellent time!
Partner with us financially to help people meet pregnancy or pregnancy loss with courage and dignity.
Give a bright future for women, children, and families by becoming an organisational partner with Life.